I tried to ignore it for as long as I could. The murmurs drifting ceaselessly through narrow corridors assailed my senses but I did not yield. The high waters pummelled the levee but it did not break. Sun filtered through darkened skylights yet would not illuminate the writing on the wall. Then, despite all efforts, it soon became clear that I could no longer outrun Ty Dolla $ign.
Thinking back, the signs were always there. "Shouts out to Ty Dollas" says Taco in the introduction to Odd Future's "Oldie," a reference to Tyler, the Creator but unmistakably similar to the name of rising Taylor Gang signee Ty Dolla $ign. Yet, at that time (2012), Ty Dolla $ign was still in his rap game infancy. Now, it's hard to dismiss the influence and power this 29-year old commands.
Where did he come from? What does he want? Answers can be hard to elucidate. With his debut album Free TC on the horizon, now is the time to finally learn a little bit more about the mysterious individual known as Ty Dolla $ign, and in this article I'll look at the releases which have brought him to the forefront of the rap game.
1. Hou$e on the Hill (2011)
Respect is earned, but often in hip-hop that can happen simply through association. Hou$e on the Hill was co-signed and underwritten by a large number of different entities, a huge debut release featuring guest spots from Wiz Khalifa, Snoop Dogg, Problem, YG and Kid Ink, among others. Hou$e on the Hill was a moderate success, buoyed off the successes of its co-conspirators and associates. The intent was evident on this modest debut, and while it served to generate attention for Ty$, it is now often overlooked.
2. Back Up Drive Vol. 1 (2011)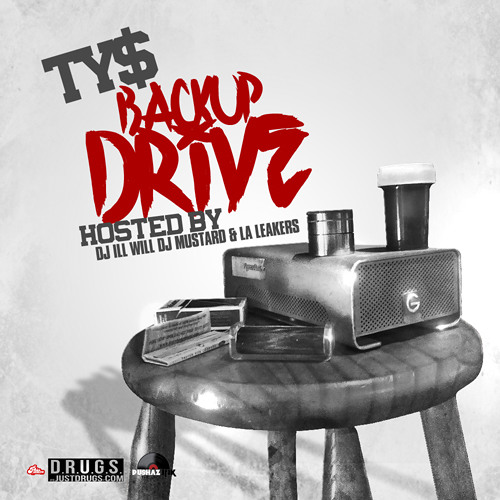 Dijon McFarlane, the producer known to the world as DJ Mustard, has become an unstoppable force in hip-hop. Last week I tuned into my local hip-hop and R&B station and was surprised to hear "Mustard on the beat, ho!" at the beginning of just about every song they played. His relationship with YG is one of his claims to fame, but he's also been with Ty Dolla $ign since the beginning. On Backup Drive Vol. 1, the two (along with DJ Ill Will and La Leakers) swerve and lean through ten songs, a third of which feature verses from YG. While that trifecta of artists hold much sway today, their influence did not extend as far back then. Backup Drive Vol. 1 was a bizarre mixtape, not particularly exciting and not particularly fresh. Not surprising, it has been removed from Datpiff, taken down from HotNewHipHop, and disabled on Hulkshare. Passing references to it can still be found on the internet, although Ty seems to want to put it behind him and move on. Curious individuals can still hear it on Soundcloud, and if you choose to do so, please share your thoughts with us as to why this mixtape has been covered up like a government conspiracy.
3. Backup Drive Vol. 2 (2012)
Backup Drive Vol. 2 is a direct sequel to volume one, featuring the same cast and crew doing a lot of the same stuff. Similar to the first volume, it has taken the backseat in Ty Dolla $ign's cadillactalog, but can still be streamed over on Hulkshare. There aren't a lot of surprises here and relatively few songs warranting repeat listens, an obscure release best left shrouded in mist.
4. Whoop! (With Joe Moses) (2012)
Joe Moses is a name you may have heard before, but probably not. The Brick Squad Monopoly rapper does not even have a Wikipedia page and his mixtapes (I Run Dis, All Out, From Nothin' to Sumthin and From Nothing to Something 2) come across as lackluster and uninspired. On this collaborative mixtape with Ty Dolla $ign, the two rappers' disparate styles clash in a weird way over beats produced by stalwart DJ Mustard. Yes, there are a few jams on here, namely "6 in da Mornin" and "Fat Pussy," but overall it's another semi-competent release with little staying power.
5. Beach House (2012)
It was bound to happen. Ty Dolla $ign released a mixtape which is worth a listen and worth coming back. Beach House came out in late 2012, hosted by DJ Ill Will and DJ Mustard and featuring fewer guest verses than usual. "That's All," a dubsteppy club track with Kid Ink, saw some replay action and garnered fresh attention for Ty. It seemed as though he had found his voice, auto-tuned though it may be, and the result is an enjoyable mixtape that the party crowd could enjoy.
6. Beach House 2 (2013)
And so it happened that the rapper known as Ty Dolla $ign, in the year of our lord two thousand thirteen, found fame. On Beach House 2, the direct sequel to the previous year's breakthrough mixtape, Ty is accompanied by an impressive roster of guests including Juicy J, Young Jeezy, Kevin Gates, Jay Rock, Wiz Khalifa, Chris Brown, Game, B.o.B, Kirko Bangz, Trey Songz, Chevy Woods and so on down the list. Mr. Dolla $ign had made it out of the forest and stood in a sun drenched clearing, glancing around wide-eyed at the popularity surrounding him. Beach House 2 is the response to this stardom, a DJ Drama hosted Gangsta Grillz mixtape with all the trappings of a studio album. Competent and sturdy, this mixtape is a charming piece of work with something for the pop fiends ("My Cabana (Remix)") and the new school enthusiasts ("Never Be the Same"). Ty's needle hit a groove.
7. Beach House EP (2014)
After three years of mixtapes, Ty saw fit to release a proper extended play, and the Beach House EP is just that. Six songs and a remix over the course of thirty-three minutes is fitting for the format, and it just so happens that two of those songs were highly successful. "Paranoid" was familiar to listeners from DJ Mustard's Ketchup mixtape and was also featured on Beach House 2 (although the version on those releases featured a verse from Joe Moses rather than the EP's verse from B.o.B, raising concerns that Moses's contribution was nixed due to controversy with TI). "Or Nah," the single that elevated Ty's status considerably and introduced him to a wave of new listeners, saw serious airplay even before the (in my opinion superior) remix featuring The Weeknd was released. Beyond the singles, other tracks like "Familiar" and the reintroduced "Never Be the Same" are a strong showing from Ty and his friends. This EP is the culmination of Ty's rocky ascent to the top and is indicative of a newly found consciousness in his music.
8. Sign Language (2014)
In two days, Ty will release his new mixtape Sign Language to the general public. From the sound of "Lord Knows," a pre-release mixtape track featuring Rick Ross and Dom Kennedy, Ty is still experimenting with EDM influences and pop-hop sensibilities. His statements on the mixtape suggest that the songs featured on it may be more personal in nature than other tracks he's released, consistent with the mood set for Free TC. On August 25th, you will be able to judge for yourself how Sign Language compares to the previous releases in Ty Dolla $ign's discography.
---
For Ty, the future seems bright. A collaboration with Rich Homie Quan is planned for sometime down the line, and of course his debut album is set to thrill and excite the public (and most likely feature songs we've already heard, although that's just my own informed opinion). After this article, the average listener should be more aware of Ty Dolla $ign and his music. Knowing is half the battle, and the rest is up to you.